Geoff Tate (Comedy Central, Late Late Show, WTF Podcast) and Shain Brenden are coming to The Moonlight Theater in McMinnville, OR on Feb 25th!
***Note: Amy Miller (Comedy Central, Last Comic Standing) was scheduled to perform but due to the weather/her flight being canceled, she's being rescheduled for a later show date.***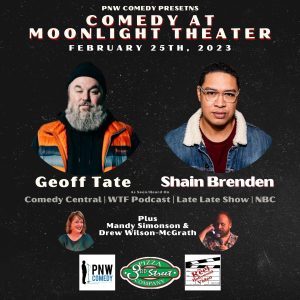 Featuring the incredible comic Geoff Tate! Maybe you listen to podcasts. In that case, you probably heard Geoff on WTF with Marc Maron or Your Mom's House with Tom Segura and Christina P or maybe it was The Todd Glass Show or You Made It Weird or BertCast or The Doug Stanhope Podcast or Never Not Funny or, and this is most likely, any of his hundreds of appearances on Doug Loves Movies. Don't listen to podcasts? Maybe you saw him on CBS's The Late Late Show or from his appearances on Comedy Central. Is this ringing any bells?
In addition to Geoff, we'll also be having the very funny Shain Brenden! Shain is the winner of Portland's Funniest, his Don't Tell reels are blowing up on Facebook/Instagram, and that's all on top of his years as a commentator on the NBC Northwest Sports Reports for the Blazers!
Hosted by PNW Comedy regular Drew Wilson-MGrath. Opening the show and making her Moonlight Theater debut is Mandy Simonson!
The box office opens at 8:30 PM and seating will begin as soon as the theater is cleaned from the last showing. Tickets are $15 (Early Bird GA is SOLD OUT) to $30 (VIP-Reserved). A General Admission ticket costs $20 through Eventbrite or $25 the Day-Of at the door (There are also some $15 Early Bird tickets available!). VIP – Reserved Seating ticket costs $25 (reserved seating is located in the rows with tables in front of you) through Eventbrite or $30 the day of the show at the door.
The show is located at 433 NE 3rd Street, McMinnville, OR 97128 inside of 3rd Street Pizza Company's Moonlight Theater. Food and drink may be purchased at the counter before and during the show. PNW Comedy and The Willamette Valley Comedy Club are independent enterprises producing shows within the space. The show starts shortly after 9 PM.
These shows…
– are meant for adults and might feature some content not suitable for everyone
– will have indoor seating with A/C and Heating
– ask that you silence your cell phone
– are open to anyone aged 18 and up
– might have lineup changes without notice*****
– will not tolerate hecklers, interruptions, or those that do not follow the posted rules the night of the show
***If you do not follow the rules, you will be asked to leave immediately.***
***All sales are final. If the show is canceled, tickets will be refunded or exchanged for another show.***
***Amy Miller is rescheduling and we'll announce those show dates soon. If you were coming this Saturday night to just see Amy, please sumbit a refund request and we'll get it taken care of ASAP.***
-PNW Comedy