Get ready for another incredible evening of comedy in the heart of Oregon's wine country! On Saturday, August 6th at 9 PM the Moonlight Theater in McMinnville will be hosting the hilarious Mo Mandel.
Tickets: https://moinmac.eventbrite.com/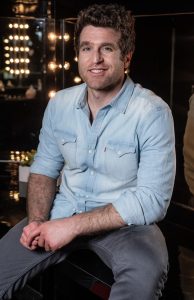 Best known for making over 40 appearances on CHELSEA LATELY, and his own HOUR SPECIAL on AMAZON, Mo has made numerous appearances on CONAN, THE LATE LATE SHOW, has a half-hour special on COMEDY CENTRAL, and is a recurring guest on popular podcasts such as ADAM CAROLLA, BERTCAST, YOUR MOM'S HOUSE, and THE FIGHTER AND THE KID. In the past, Mandel has also guest starred on such hit shows as MODERN FAMILY, CASTLE, HAPPY ENDINGS, and was one of the leads of NBC'S comedy FREE AGENTS, opposite Hank Azaria and Kathryn Hahn. Most recently, Mo created and hosted a special for THE DISCOVERY CHANNEL called SMALL TOWN THROWDOWN. He is also the creator of the hit series, COMEDY KNOCKOUT, which can be found on truTV and HBOMAX.
Mo's stand-up comedy is loud and dirty and blends his unique takes on married life, serial killers, and more into a mix of downright funny jokes and stories. Plus special guests. Hosted by The Willamette Valley Comedy Club.
The box office located at the theater opens at 8:30 PM. A General Admission ticket costs $10 through Eventbrite or is $15 for a ticket on the day of the show at the door. VIP – Reserved Seating tickets cost $20 with any remaining available at the door the night of the show for just $25. (So get those tickets ahead of time!) The show is located at 433 NE 3rd Street, McMinnville, OR 97128 inside of 3rd Street Pizza Company's Moonlight Theater. The Willamette Valley Comedy Club is an independent enterprise producing shows within the space. The show starts shortly after 9 PM.
Tickets: https://moinmac.eventbrite.com/
This show…
— is meant for adults and might feature some content not suitable for everyone
— will have indoor seating with A/C and Heating
— asks that you silence your cell phone
— is open to anyone aged 18 and up
— might have lineup changes without notice
— will not tolerate hecklers, interruptions, or those that do not follow the posted rules the night of the show
***If you do not follow the rules, you will be asked to leave immediately.***
***All sales are final. If the show is canceled, tickets will be refunded or exchanged for another show.***
-PNW Comedy