Imagine this: live stand-up comedy meets light-hearted dodgeball. Intrigued? We thought so. Introducing Ball Pit Comedy, a unique comedy show happening tonight in the heart of the Willamette Valley at Keizer Homegrown Theatre.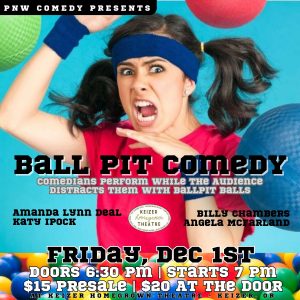 Tickets at: https://BPKeizer.eventbrite.com/
So, what's this all about? We take soft plastic play pit balls, the audience's ability to toss them onstage, and combine them with some amazing stand-up comedy for a night of laughs you'll want to participate in time and time again! Did you like the joke? Show your support and toss a ball. Didn't like a joke? Toss a ball. Need some more candy? Throw a ball, ya baller! This one-of-a-kind event promises an evening filled with non-stop laughter and fun from start to finish.
Featuring the supremely talented comedians Amanda Lynn Deal, Katy Ipock, Billy Chambers, Angela McFarland, and possibly one more surprise comic!So, join PNW Comedy tonight, Friday, Dec 1st at 7 PM at Keizer Homegrown Theatre.
Trust us, you won't want to miss out on this unforgettable experience. Grab your friends, bring your sense of humor, and get ready for a night that will leave you in stitches.
Tickets at: https://BPKeizer.eventbrite.com/
This show…
– is meant for adults and might feature some content not suitable for everyone
– will have indoor seating with A/C and Heating
– asks that you silence your cell phone
– is open to anyone, but is recommended for those aged 18 & up
– might have lineup changes without notice
– will not tolerate hecklers, interruptions, or those who do not follow the posted rules the night of the show
***If you do not follow the rules, you will be asked to leave immediately.***
***All sales are final. If the show is canceled, tickets will be refunded or exchanged for another show.***
-PNW Comedy