Willamette Valley Comedy Club On Facebook
Western Oregon Comedy Competition On Facebook
Oregon Comedy Competition On Facebook
PNW Comedy – Klamath Falls On Facebook
Updated: Aug 2023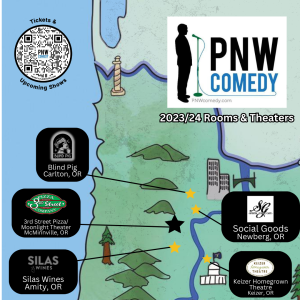 PNW Comedy is a full-service promoter that books, hosts, manages, and produces stand-up comedy shows, competitions, workshops, improv shows and classes, comedy open mics, and various other events including trivia nights at venues across Oregon.
PNW Comedy was started by Andrew Brunello as a matter of necessity. After a few years of grinding at open mics, getting booked on local shows, and self-producing comedy nights at bars, in late 2015 Andrew had been asked by a venue in the Willamette Valley, The Mac Club of McMinnville, and comedy promoter in Central Oregon, Bend Comedy of Bend, to start hosting and booking his own style of stand-up comedy shows at their venues. Since Andrew lived in Southern Oregon at the time, he wanted to also be able to incorporate his monthly stand-up shows in Klamath Falls into his new shows in McMinnville and Bend. So, a unified brand that played off the larger geographic location was made that could be used to produce shows no matter the place in the state… and beyond. 
PNW Comedy created the Western Oregon Comedy Competition in 2017 after deciding it was dumb that Helium Comedy Club in Portland didn't reach out to the larger area. By 2019, it had been transformed into one of the largest comedy competitions in the state at the time with hundreds of applicants submitting applications from 11 states and three countries. Covid shut down the 2020 competition midway through its run in March 2020, but it was finally completed in late 2021. After taking 2022 off, the Western Oregon Comedy Competition will be back in 2023.
While COVID interrupted shows and closed venues across the nation, PNW Comedy took the opportunity to partner with other local producers, creators, comedians, and various artists to expand what programming options it has to offer once things opened back up in 2021. And instead of working primarily in bars, PNW Comedy pivoted to a theater-first focus in order to bring more improv options to venues while continuing its pop-up comedy shows at various bars and venues across Oregon.
In 2021, PNW Comedy signed with Keizer Homegrown Theatre to produce a limited run of stand-up shows in the Salem/Keizer area. These shows could only seat 30 people due to the health regulations of the time, but these events were a way to ease back into the 'new normal' and adapt to the new-to-PNW Comedy theater setting. After a successful run of stand-up nights, and then later improv shows and classes, PNW Comedy was invited to continue producing in the space until at least 2024.
Also in 2021, PNW Comedy started producing stand-up shows and competitions at the Moonlight Theater, which is located inside 3rd Street Pizza Company in downtown McMinnville. After a successful run of shows, PNW Comedy was invited to continue producing in the space as the sole comedy booker/promoter in the space. Post 3rd Street Pizza fire, PNW Comedy is planning on coming back and producing more shows and larger events in the space.
At this point in late 2022, PNW Comedy produces and manages shows, classes, and other events in McMinnville, Carlton, Keizer, Sherwood, Bend, and Willimina, with seasonal shows at the Oregon Coast and other pop-up comedy club nights in venues around the state.