Named a Comic To Watch by Comedy Central, Daniel Van Kirk is a comedian that you might know from Bob's Burgers, Comedy Central, and the NFL Network. You can also hear him every week co-hosting podcasts, "Dumb People Town" with the Sklar Brothers and "Pen Pals" along with Rory Scovel! Daniel tours around the country performing at comedy clubs and at festivals including Just For Laughs Montreal, SF Sketchfest, The Moontowner Comedy Festival, and more. His album "Thanks Diane," which debuted at #1 on iTunes, is available wherever you listen to comedy.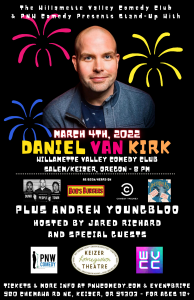 Podcast info: "Dumb People Town" and "Pen Pals"
With over 1 million downloads a month, these podcasts have garnered Daniel a nationwide audience. Both of these very successful podcasts have extremely loyal fan bases and listeners of the show always grab tickets and come to shows when Daniel is performing in their area.
Alongside Daniel Van Kirk will be comedians Andrew Youngblood and Salem's own Jared Richard. Plus special guests!
Doors open and seating begins at 7:30 PM. Tickets cost $20 through Eventbrite or $25 on the day of the show at the door. (So get those tickets ahead of time!) The show is located at 980 Chemawa Rd NE, Keizer, OR 97303. The Willamette Valley Comedy Club is an independent enterprise producing shows within the space.
This show…
is meant for adults and might feature some content not suitable for everyone
will have indoor seating with A/C and Heating
asks that you silence your cell phone
is open to anyone aged 18 and up
might have lineup changes without notice
asks that you wear a facial covering when not actively eating or drinking
will not tolerate hecklers, interruptions, or those that do not follow the posted rules the night of the show
Tickets at https://dvkinsalemkeizer.eventbrite.com or at the ticket link box located at the top of this article.
***If you do not follow the rules, you will be asked to leave immediately.***
***All sales are final. If the show is canceled, tickets will be refunded.***
-PNW Comedy