Join us on Aug 4 at 7 PM for Ball Pit Comedy, a one-of-a-kind comedy show that combines live stand-up comedy with audience distractions straight out of the ball pit!
Tickets at: https://NewbergComedy.eventbrite.com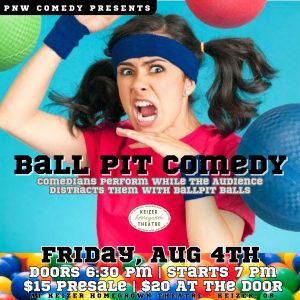 What is Ball Pit Comedy? While the comedians are on stage, the audience will have their chance to distract them by tossing soft ball pit balls at them! When should you toss a ball? Did you like a joke? Toss a ball. Did you not like a joke? Toss a ball. Need a drink of water? Toss a ball! End of the comic's set? TOSS ALL THE BALLS! It's a lot of fun and the laughs are guaranteed!
Doors open and seating begins at 6:30 PM. Tickets cost $15 through Eventbrite to be able to toss the play pit balls or $20 on the day of the show at the door. (So get those tickets ahead of time!) And hey! There's also a FREE Ticket option for those of you interested in just seeing the shenanigans. The show is located at 980 Chemawa Rd NE Keizer, OR, on the second level. The Willamette Valley Comedy Club is an independent enterprise producing shows within the space.
Featuring comedians Katy Ipock alongside some up-and-coming fresh faces from Bend, plus some of your PNW Comedy favorites!
Tickets at: https://NewbergComedy.eventbrite.com
This show…
– is meant for adults and might feature some content not suitable for everyone
– will have indoor seating with A/C and Heating
– asks that you silence your cell phone
– is open to anyone aged 18 and up
– might have lineup changes without notice
– will not tolerate hecklers, interruptions, or those that do not follow the posted rules the night of the show
***If you do not follow the rules, you will be asked to leave immediately.***
***All sales are final. If the show is canceled, tickets will be refunded or exchanged for another show.***
-PNW Comedy