Langer's Entertainment Center in Sherwood, Oregon. Langer's Entertainment Center of Sherwood, OR is playing host to another PNW Comedy show at their huge multifaceted arcade/bowling alley/bar/rock wall/laser tag venue on October 21st at 8 pm!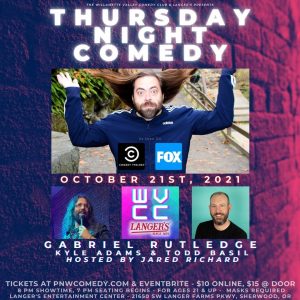 Gabriel Rutledge is a world-class comedian that has performed his comedy all across the United States and the globe. Featured on Comedy Central's Live At The Gotham, FOX's show Laughs,  Nickelodeon/Nick Jr's NickMom Night Out, and viewed millions of times on TikTok, Rutledge brings his own hilarious blend of dad-humor and relatable takes to one of the Portland Metro areas newest and nicest entertainment centers.
Ticket Link: https://sherwoodoctober.eventbrite.com
Alongside Rutledge, the talented duo of Kyle Adams and Todd Basil will be opening the show. Kyle Adams is a funny and down-to-earth comic that showcases nerd-centric jokes with a dark side. Todd Basil is an up-and-coming comedian that can sling zingers like the best of them. Hosting the show for PNW Comedy & The Willamette Valley Comedy Club is the incomparable Jared Richard.
***MASKS REQUIRED***
Tickets cost $10 through Eventbrite or $15 the day of the show at the door. The show is located at 21650 SW Langer Farms Pkwy, Sherwood, OR 97140. The Willamette Valley Comedy Club is an independent enterprise producing shows within the space. The show starts at 8 pm, with seating beginning at7PM.
This show…
is meant for adults and might feature some content not suitable for everyone
will have indoor seating with A/C
asks that you silence your cell phone
is open to anyone aged 21 and up
might have lineup changes without notice
will not tolerate hecklers, interruptions, or those that do not follow the posted rules the night of the show
***If you do not follow the rules, you will be asked to leave immediately.***
-PNW Comedy