4 Shows – 3 Venues
– 2 Rounds – 1 Winner
--Where The Audience Decides Who Wins!--
Nov 12th

 (Salem/Keizer)

, Nov 16th

 (Sherwood/PDX Metro)

, Nov 20

th

 (McMinnville),

& Dec

14

th

 

(Sherwood/PDX Metro Area)

 2021
Are you funny? Pretty good at stand-up? Do you think have what it takes to be crowned the Western Oregon Comedy Competition champion? One good set during the First Round is all it takes to make it to The Finals for your opportunity at $400 and stand-up stardom!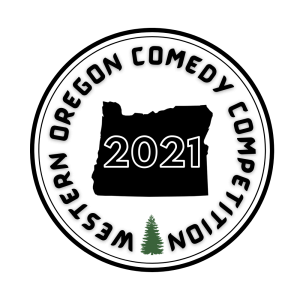 What is the WOCC? The Western Oregon Comedy Competition consists of four comedy shows that take place in three different cities in November and December of 2021. What's special about the WOCC? Well, the winner isn't decided by a bunch of comedy good ol' boys- at the conclusion of each show, the audience votes for who they think had the evening's best performance and YOU, the people, ultimately decide who is crowned the 2021 Western Oregon Comedy Competition Champion! And the best part? The winner gets $400 cash and a future headliner or feature booking at PNW Comedy event(s)! 
-THESE SHOWS ARE 90% COMIC PERFORMANCES AND 10% AUDIENCE PARTICIPATION- 
Any level of comedian FROM ANYWHERE may submit to compete– From the novice comic that has only done a few open mics all the way up to the touring headliner that has been on stage for years and years.  (The show isn't designed for traveling features/headliners, but we'll gladly consider them if they're interested in participating). The comics chosen to participate will be notified no later than November 6th, 2021. 
Submissions Start: 10/15/2021
Submissions End: 10/30/2021 at 11:59 PM
Where To Send Submissions: wocc@pnwcomedy.com 
—SUBMISSIONS ARE NOW OPEN THROUGH OCT 30TH, 2021— 
Comedians wanting to compete must be able to get to the venue the night they are scheduled to perform. (Either on November 12th in Salem/Keizer, OR, November 16th in Sherwood (PDX Metro), OR or November 20th in McMinnville, OR and if you make it to The Finals, December 14th, 2021 in Sherwood (PDX Metro), OR. No exceptions.) If you are selected to move on to the next round but cannot attend the next show date, you will be disqualified. 
Locations: 
Salem/Keizer

Willamette Valley Comedy Club @ Keizer Homegrown Theatre – 

980 Chemawa Rd NE, Keizer, OR 97303 (Second Level Theater)

McMinnville

The Zodiac Lounge – 

405 NE 3rd St Suite 8 & 9, McMinnville, OR 97128 (Second Level)

PDX Metro/Sherwood

Langer's Entertainment Center

 – The Tack Room – 

21650 SW Langer Farms Pkwy, Sherwood, OR 97140 (Second Floor)
WHAT TO SEND IN: 
 To be considered to participate in the competition, please email the following to wocc@PNWcomedy.com: 
– Your name and/or stage name
– Where you are from/your home base
– How long you've been doing comedy
– A picture and/or a headshot
– Any comedy-related credits (shows, tours, TV appearances, bars mics, etc.)*
– A comedy bio*
– A good quality video of you performing, which is ideally five minutes. (No longer than 10 minutes.)* 
– Which two (2) First Round heats work best for you to compete?  Nov 12th in Keizer, OR, Nov 16th in Sherwood, OR or Nov 20th in McMinnville, OR – LIST ONLY TWO
*= Not required, but highly encouraged 
VOTING & BALLOTING INFORMATION: 
Each round will end the show with a vote to determine who had the evening's best performance. One ballot will be given to each audience member, comic, and staff member that watched the comics perform.  
At the conclusion of the voting, the ballots will be tallied up and the results announced live on stage for all to hear and see! 
ROUND INFORMATION: 
Summary: There will be four total shows that are separated into two different rounds- the First Round and The Finals. The first three shows will be included in the First Round and will have three separate heats on different nights in different cities (Keizer, McMinnville, & Sherwood, OR). The 2-3 comics that receive the most votes from each First Round heat will move on to The Finals and compete for a $400 cash prize on a fourth and final show! 
First Round: The comics selected to compete will be assigned to compete in one of three First Round heats. All First Round comics must do at least five minutes of material and no longer 8 minutes. Going over the maximum allotted time, or under the minimum time, may result in disqualification. (These performance times will vary by the venue due to runtime constraints and the number of comics performing.) 
November 12th, 2021– 8 PM Showtime (Salem/Keizer, OR)
November 16th, 2021– 8 PM Showtime (Sherwood/PDX Metro, OR)
November 20th, 2021 – 8 PM Showtime (McMinnville, OR)
The Finals:  The 8-9 comics that advanced from the First Round/Round One heats will do 10-12 minutes each in the final round. (These performance times may change due to the number of comics in The Finals.) After the show, the audience votes for the comic they had the evening's best performance and the comedian that receives the most votes wins this year's title of WOCC Champion! 
December 14th, 2021 – 8 PM Showtime (Sherwood/PDX Metro, OR)
ELIGIBILITY & GENERAL RULES/GUIDELINES 
– Must be at least 21 years old to compete. 
– You do not have to be from Oregon to submit to be in the shows. But you can be!
– All local, state, or federal health mandates must be followed including the wearing of masks inside establishments when not actively eating or drinking. Not doing so may be ground for disqualification.
– All potential competitors must have done at least one comedy open mic. 
– Previous participants of other PNW Comedy competitions may compete. 
– All material must be written by the comic performing it. 
– Absolutely no hate speech. 
– Everyone performing must be at least partially vaccinated for COVID-19 unless they have a medical or religious exemption.
– Be respectful to the comedians, audience members, volunteers, and staff. 
– A vote by the audience will take place at the end of every show to determine the advancing competitors/winner. 
– If a comic moves on to the next round but is unable to make the next show, the next highest vote-getting comic in that round/heat will then take that comic's spot. 
– Currently booked headliners and current PNW Comedy volunteers may not participate as competitors in the competition. 
– There are two ways of being selected to participate: One- producers select the competitors by comics submitting requested materials, and Two- by the producers reaching out to comics directly. 
–Comedians wanting to compete must be able to get to the venue the night they are scheduled to perform. 
– The producers have the ultimate authority to determine if something is grounds for disqualification, to select a comic to move on in another comic's place, to determine if a member(s) of the audience are cheating the balloting system, and to determine what happens in the event of any ties. 
– Not following any of the rules listed above, or stated before, during, or after a comedy show, may be grounds for immediate disqualification. 
– The earlier you send in your materials, the better- Some comics may be accepted to participate in the comp for scheduling and other purposes before the submission end date of October 30th. 
– Individual event showtimes, round performance times, and rules are subject to change without notice.  
***By submitting to be a part of this year's WOCC, you agree to follow the rules and self-attest that you meet all requirements to be in the competition.***
OTHER INFO 
You've Got Questions, We Have Answers! 
Q: Does it cost to submit to the Western Oregon Comedy Competition? 
A: Not at all! The competition is sponsored by PNW Comedy. They are covering all production and entertainment costs involving the competition. 
Q: Will I be paid for my time? 
A: Yes you will! Whether you're in the first round or the finals, you'll be compensated for your time! 
Q: Do I have to wear a mask?
A: Yes. Anytime you are not actively eating, drinking, or performing we ask you to adhere to the current local masking regulations. No exceptions. 
Q: What is the compensation? 
A: Straight to the point- each First Round comic will get a comped ticket to the show they are scheduled to perform on (for a friend/loved one), a food/drink comp, and a small cash payment (very small). 
Q: What's the point of doing this no-name competition? 
A: Well, if you make it to The Finals (the second show) and are voted the night's best comic by the audience, you'll receive $400 the night of the finals and you'll be booked again as a headliner or feature at one of PNW Comedy regular shows. You'll also be invited back for the next year's WOCC to participate as the Host, MC or Feature.  
Q: Are musical comedy acts eligible to participate? 
A: Yes! If you consider yourself more of a comedy/stand-up act than a musical act, then you're more than encouraged to submit the requested materials to the competition. 
Q: I competed in another PNW Comedy competition in previous years. Any chance I could compete again? 
A: Yes! All previous participants are eligible (and encouraged!) to compete again. The only people that cannot compete are currently booked headliners and PNW Comedy staff/volunteers. 
If you have any more questions, comments or concerns, please feel free to email us at wocc@pnwcomedy.com.