Located on the second floor inside a historic early 20th-century schoolhouse, the Willamette Valley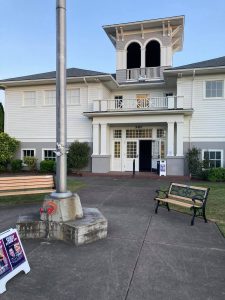 Comedy Club at Keizer Homegrown Theatre is a terrific venue to see a comedy show. This indoor venue comfortably seats 70 and features riser seating in an air-conditioned building and room. The building itself is ADA compliant and comes with wheelchair lift access.
The theater is located at 980 Chemawa Rd NE, Keizer, OR 97303 and is less than five minutes from exit 260 on I-5 and just ten minutes from Downtown Salem. The Willamette Valley Comedy Club is an independent enterprise producing shows within a space that is shared with the Keizer Homegrown Theatre.
Seating begins thirty (30) minutes before the scheduled start time. We ask that cell phones be silenced before the performance. No outside food or drinks are allowed in the theater. No heckling or interrupting the comics or disturbing the performance. Breaking any of these rules is grounds for immediate removal from the shows.
A small concession stand consisting of water, candy, and chips operates before and during the shows.
Comedy shows at this location occur on a semi-regular basis and tickets cost between nothing and $20, depending on the event. And for our Open Mics, we feature 'Free General Admission Seating' with advanced online registration or 'Reserved Seating' and 'Day-Of' tickets at the door for just $5. A small concession booth featuring water, candy, and popcorn will operate before and during the show, but no alcoholic beverages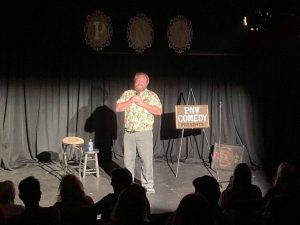 will be served.
Most of the shows here will be for those aged 18 and up because they will feature some content not suitable for everyone, but some all-ages programming will be announced soon!
Two large room air purifiers are on during all performances and the room is cleaned at the end of every night.
Tickets for individual shows can be purchased online or, if there are any remaining not sold tickets online, at the door the night of the event. If you're coming with a large group or party, please contact us ahead of time in order to be able to seat everyone together and get a great group rate!