Congratulations
to Dash Thompson, Luke Miller, Tory Ward,
Bryan
Bixby, Jaren George, Eliza Butler, Marla Eyvette Massie, Dianna Potter, and Kayla Marie for moving on to The Finals of the
Western Oregon Comedy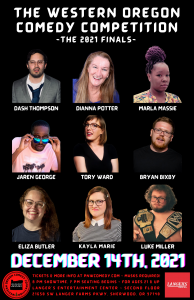 Competition
on December 14th at
Langer's Entertainment Center
in Sherwood! Thank you to everyone that was a part of this year's showcases and to our great hosts, Drew Wilson-McGrath and Tony Meyer!
In The Final round, the nine comics that moved forward will each have 10 minutes to dazzle the crowd in Sherwood! Unlike the Moonlight Theater or Keizer Homegrown, Langer's is definitely more of a bar show is for those aged 21 and up. While the room can seat well over 200+, seating is limited for this show. As always, at the end of the show, a vote will take place to determine who walks away with the title of the 2021 WOCC champ!
-PNW Comedy