This Friday is going to be a special night of fun in downtown McMinnville!. Tyler Boeh will be headlining our first (official) show of the Willamette Valley Comedy Club @ 3rd Street Pizza Company's Moonlight Theater! Boeh's creatively quick-witted humor combines his insights as a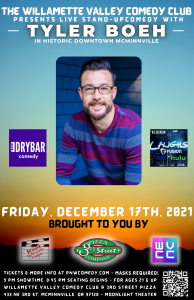 father and his love of music. The Oregon-based Boeh is a rising star in comedy that has had his own Dry Bar Comedy special, had his 2018 album 'Full Circle' debut at #2 on the Billboard Comedy charts, and was featured on multiple episodes of the FOX stand-up TV show 'Laughs'.
Tickets At: https://tylerboehinmacdec.eventbrite.com
Facebook Event: https://www.facebook.com/events/425105832416115/
If you haven't come out to a show before, we highly recommend this one. The venue features a full New York-style pizza kitchen and drink service available directly to your seat.
In addition to Boeh, we'll have the hilarious Jared Richard hosting and Dash Thompson as the feature act! And if you're interested in making a full night of fun in downtown McMinnville, you can catch the new Spiderman movie at 6 pm in the same theater space that we'll be using and then stick around for the comedy show at 9! As always, our shows in McMinnville are brought to you by The Reel Hollywood Video! See you Friday night!
-PNW Comedy