Live stand-up comedy is back in McMinnville for a special night of laughs and good feels featuring Amy Miller (Comedy Central) & Sean Jordan (CBS, All Fantasy Everything) at the Gallery Theater!
Tickets at https://MillerAndJordanInMac.eventbrite.com/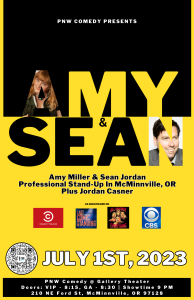 This special evening of fun has lots of laughs in store! But, it's also PNW Comedy's first show back in McMinnville since the Moonlight Theater & 3rd St Pizza Company, our home in McMinnville, burnt down in a fire on May 24th. While the theater and pizza company rebuilds, the shows will go on at the nicest venue in all of Yamhill County, the Gallery Theater!
Amy Miller
Amy Miller was one of Comedy Central's "Up Next" comics, and has a Half Hour Special called 'Ham Mouth' on Comedy Central. As a brand new comic, she was a breakout favorite in the final season of Last Comic Standing. She has a half hour comedy special on Epix's Unprotected Sets and her Comedy Central Presents set has been viewed millions of times on Youtube and Facebook. Amy regularly opens for Tom Segura, Wanda Sykes, and several more of her comedy idols! She was also a featured comic on Viceland's Flophouse. On Last Comic Standing, Keenen Ivory Wayans said she had one of the "fiercest jokes he had ever heard." Originally from the East Bay, Amy found her comedy chops in Oakland and is still a regular at the SF Punch Line and Cobb's Comedy Club, as well as a paid regular at The Comedy Cellar, The Hollywood Improv and the Laugh Factory, and is in development at the World Famous Comedy Store.
Amy's debut album Solid Gold is available on Kill Rock Stars, and was named one of the top 10 comedy albums of 2016 by The Interrobang. Her sophomore album California King is available on Blonde Medicine Records. You may have also seen Amy on Viceland or heard her on Sirius XM, NPR, Doug Loves Movies, The Adam Carolla Show, The Bennington Show, Put Your Hands Together, All Fantasy Everything, Keith and the Girl, or her own podcast "Who's Your God?."
Sean Jordan
Sean Jordan is a stand-up comedian and podcaster who co-hosts the wildly popular podcast All Fantasy Everything and hosts the always-good-news podcast What's Dank That I'm Stoked On. Sean was named Portland's Funniest Person by Willamette Week Magazine, has written for Comedy Central, and he was named one of the "Comics to Watch" by Splitsider Magazine. In 2019, Sean charted at #2 on iTunes with the release of his debut stand up album The Buck Starts Here on A Special Thing Records. He is a regular guest and fan favorite on Doug Bensons' podcast Doug Loves Movies, and you may also have heard him on Professor Blastoff, The Crabfeast, Put Your Hands Together and Alison Rosen is Your Best Friend. Sean has performed in comedy festivals around the country, including the High Plains Comedy Festival, Bridgetown Comedy Festival and Sketch Fest in San Francisco. His stand up comedy has been described as "You get the sense this is sincerity, not shtick. And so it's not surprising Jordan is so popular with his peers in the scene—other comics, club staff and promoters. His buoyancy can be hard to crack." Besides sharing that positive attitude buoyancy, Sean has recently been practicing how to swaddle his new daughter. Ask him for swaddle tips anytime.
Plus Jordan Casner! Jordan Casner has performed at festivals including the Bridgetown Comedy Festival and the 10,000 Laughs Festival and has opened for acts including Brain Regan, David Spade, and Taylor Tomlinson. He has two cats and a solid night routine. Also, Jordan is a 2007 McMinnville High School graduate! MC'd by PNW Comedy's Andrew Brunello. Hosted by Jared Richard.
Food and drink (beer, wine, cider, soda, water) will be available for consumption in the loft by some of the 3rd Street Pizza crew. All drinks must be put into a Gallery Theater-provided cup that costs $5. (House rules, no exceptions. Any and all purchased drinks get put into that cup. Cups can be reused and taken home.) Drinks and small snacks will be allowed inside the theater, but hot food will be limited to the lounge. VIP – Reserved Seating ticket holders will be provided a FREE CUP and will have access to the lounge starting at 8 PM the night of the show.
Doors open and seating begins at 8 PM for VIP-Reserved Seating ticket holders and at 8:30 PM for General Admission. Showtime starts shortly after 9 PM.
Tickets-
VIP-Reserved Seating costs $30 through Eventbrite or is $35 on the day of the show at the door. (VIP Guests receive early entrance to the venue, priority access to the lounge & seating, and a FREE Gallery Theater beverage cup for drink purchases.)
General Admission cost $20 through Eventbrite or is $25 on the day of the show at the door. (So get those tickets ahead of time!)
A limited amount of Early Bird tickets will be available for purchase through Eventbrite for only $15!** (So get those tickets bought early and save money!)
The show is located at the Gallery Theater, 210 NE Ford Street, McMinnville, OR 97128. PNW Comedy is an independent enterprise based in McMinnville that is producing booked shows within the theater.
Tickets at https://MillerAndJordanInMac.eventbrite.com/
This show…
– is meant for adults and might feature some content not suitable for everyone
– will have indoor seating with A/C and Heating
– asks that you silence your cell phone
– is recommended for anyone aged 18 and up
– might have lineup changes without notice
– will not tolerate hecklers, interruptions, or those that do not follow the posted rules the night of the show
***If you do not follow the rules, you will be asked to leave immediately.***
***All sales are final. If the show is canceled, tickets will be refunded.***
-PNW Comedy