Another extraordinary evening of comedy returns to Bend on April 3rd with Amy Miller (Comedy Central) & Stephen Agyei!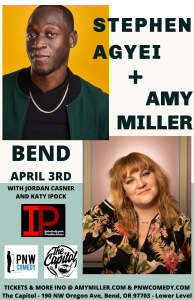 Amy Miller was one of Comedy Central's "Up Next" comics, and as a brand new comic she was a breakout favorite in the final season of Last Comic Standing. She has a new comedy special coming out on Comedy Central on March 24th, has a half-hour comedy special on Epix's Unprotected Sets, and her Comedy Central Presents set has been viewed over 3 million times on Youtube and Facebook. She was also a featured comic on Viceland's Flophouse. On Last Comic Standing, Keenen Ivory Wayans said she had one of the "fiercest jokes he had ever heard." Originally from the East Bay, Amy found her comedy chops in Oakland and is still a regular at the SF Punch Line and Cobb's Comedy Club
Website: amymillercomedy.com
The LA-based Stephen Agyei is a stand-up comedian who has been featured in BoJack Horseman on Netflix, Just For Laughs Digital, The LOL Network, Viceland's Flophouse, and NPR's "All Things Considered." You may know his face from his National commercial work for Realtor.com, Remi Martin w/Usher (Directed by Jake Nava), and Voiceover on Cartoon Network's Tig-N-Seek.
Website – Www.stephenagyei.com
Doors open and seating begins at 6 PM. Showtime is at 7 PM. Tickets cost $15 through Eventbrite or $20 on the day of the show at the door. (So get those tickets ahead of time!) The show is located at The Capitol,190 NW Oregon Ave, Bend, OR 97703. PNW Comedy is an independent enterprise producing shows within the space. Hosted by Bend's own Eric Oren (107.7 The Beat, NBC). Plus Jordan Casner and Katy Ipock.
This show…
– is meant for adults and might feature some content not suitable for everyone
– will have indoor seating with A/C and Heating
– asks that you silence your cell phone
– is open to anyone aged 21 and up
– might have lineup changes without notice
– will not tolerate hecklers, interruptions, or those that do not follow the posted rules the night of the show
For more information about all our shows, visit https://www.facebook.com/events/4879801375466261
Tickets at: https://amyandstepheninbend.eventbrite.com
-PNW Comedy