Get ready for some out-of-this-world laughter on Friday, September 24th in Downtown McMinnville, right in the middle of this year's UFOFest! The Willamette Valley Comedy Club and The Zodiac Lounge Presents Undeniably Funny Opinions & Stories!
***Masks Required, No Exceptions***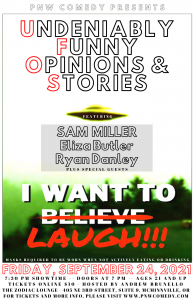 Sam Miller headlines a terrific evening of comedy that starts at 7:30 PM. Plus Eliza Butler, Ryan Danley, and more. Hosted by Andrew Brunello of PNW Comedy. Masks 100% required, no exceptions.
Tickets cost $10 through Eventbrite or $12 (really $10) the day of the show at the door. The Zodiac Lounge is located at 405 NE 3rd Street, Suite 8, McMinnville, OR 97128. The Willamette Valley Comedy Club is an independent enterprise producing shows within the space. The show starts at 7:30 pm, with seating beginning at 7 PM. (A second show will be added if the first one fills up.) Concessions consisting of water, chips, and candy will be available for purchase before and during the show.
This show…
-will not tolerate hecklers, interruptions, or those that do not follow the posted rules the night of the show
– is located on the second floor
– requires masks to be worn while not actively eating or drinking
– asks that you silence your cell phone during the show
– is open to anyone aged 21 and up
– might have lineup changes without notice
– is meant for adults and might feature some content not suitable for everyone
***If you do not follow the rules, you will be asked to leave immediately.***
-PNW Comedy