Looking for a unique and fun date night? Check out Date Night: A Comedy Show For Couples in Newberg on Saturday, March 18th at 8 PM!
Tickets at https://DateNightNewberg.eventbrite.com/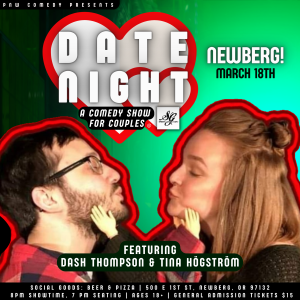 What's Date Night? It's a comedy show for couples (and anyone) that features a variety of improv, stand-up comedy, and interactive games that give you and your date the chance to win prizes! Featuring Tina Hogstrom and Dash Thompson.
Doors open and seating begins at 7 PM with a sharp-ish 8 PM showtime. Tickets cost $30 for couples or $15 for a single ticket through Eventbrite, and just $20 per person on the day of the show at the door. (So get those tickets ahead of time!) The show is located at 500 E 1st St, Newberg, OR 97132 in the heart of downtown. PNW Comedy is an independent enterprise producing shows within the space.
This show…
– is meant for adults and might feature some content not suitable for everyone
– will have indoor seating with A/C and Heating
– asks that you silence your cell phone
– is open to anyone aged 18 and up
– might have lineup changes without notice
– will not tolerate hecklers, interruptions, or those that do not follow the posted rules the night of the show
Tickets at https://DateNightNewberg.eventbrite.com/
***If you do not follow the rules, you will be asked to leave immediately.***
***All sales are final. If the show is canceled (not rescheduled), tickets will be refunded or exchanged for another show.***
-Andrew Brunello