Comedy is back in McMinnville! This Sunday at 8 PM, The Willamette Valley Comedy Club, Fat Smile, and The Reel Hollywood are proud to present Downtown Comedy at The Zodiac Lounge!!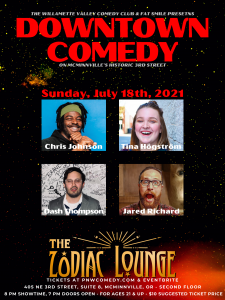 This show's featured comics are Chris Johnson, Tina Högström, Dashiell Thompson, and Jared Richard! This show will have a small concession stand with soda, water, snacks, candy, and more and will also feature a bar with beer, wine, and more.
Seating begins for this show one hour (1 hr.) before the night's scheduled start time (7 PM). Tickets have a suggested donation of $10 through Eventbrite or at the door. For ages 21 & up. Please be advised that this event may have some content not suitable for everyone, so these shows are not recommended for those easily offended. No talking during the show or heckling the comics, period. Breaking any of these rules is grounds for immediate removal from the show.
Address: 405 NE 3rd Street, Suite 8, McMinnville, OR – Second Floor
Tickets: https://downtownmaccomedy.eventbrite.com ($10 suggested ticket price, but it's just a suggestion.)
RSVP & More Info: https://www.facebook.com/events/528384108400292/
-PNW Comedy