Johnny Pemberton and Amy Miller are good friends and they're each gonna tell you some jokes at the Willamette Valley Comedy Club @ Keizer Homegrown Theatre on July 22nd!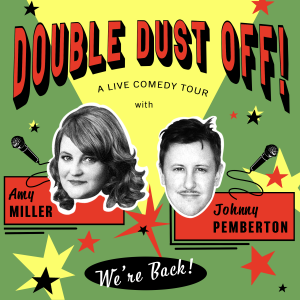 Johnny Pemberton is a comedian and actor who plays Bo on NBC's Superstore, but you might also know him from Neighbors 2, 21 Jump Street, You're the Worst, Son of Zorn, and many more things.
Amy Miller is a Bay Area native who has gone on to be a semi-finalist on NBC's Last Comic Standing and one of Comedy Central's "Up Next" Comics. She's also been on Viceland, has a half-hour special on Epix and won Portland's Funniest Comedian in Helium Comedy Club's Contest and in the Willamette Week.
Tickets cost $20 through Eventbrite or $25 the day of the show at the door. The theater is located at 980 Chemawa Rd NE, Keizer, OR 97303. The Willamette Valley Comedy Club is an independent enterprise producing shows within the space shared with Keizer Homegrown Theatre. The show starts at 8 pm, with seating beginning at7:30 PM. Concessions consisting of water, chips, and candy will be available for purchase before and during the show.
This show…
– is meant for adults and might feature some content not suitable for everyone
– will have indoor riser seating with A/C
– asks that you silence your cell phone
– is open to anyone aged 18 and up
– might have lineup changes without notice
– will not tolerate hecklers, interruptions, or those that do not follow the posted rules the night of the show
***If you do not follow the rules, you will be asked to leave immediately.***
Tickets at: https://www.eventbrite.com/e/amy-miller-johnny-pemberton-live-in-salemkeizer-or-tickets-159805774373
-PNW Comedy