Guess what's coming back to one of Oregon's best entertainment destinations!? PNW Comedy and the Willamette Valley Comedy Proudly Present: Thursday Night Stand Up Comedy in Sherwood, Oregon.
Langer's Entertainment Center is playing host to another great night of comedy at their huge multifaceted arcade/bowling alley/bar/rock wall/laser tag venue on July 15th at 8 pm. This month we're featuring the incredibly funny foursome of Sam Miller, Chris Johnson, Iris Benson, and Dash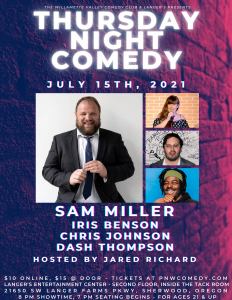 Thompson.
Seating begins for this show one hour (1 hr.) before the night's scheduled start time at 7 PM. Tickets cost $10 online through Eventbrite or $15 at the door. Be advised that this event may have some content not suitable for everyone, so these shows are not recommended for those easily offended. The rules of this 80-100 minute show are simple:
Treat the employees, comics, and fellow patrons with respect.
No talking during the show or heckling the comics, period.
For ages 21 & up.
Have fun!
In order to provide quality content to all paid patrons, breaking any of these rules is grounds for immediate removal from the show.
Tickets at: https://july15th2021.eventbrite.com
-PNW Comedy