We're throwing a PNW Comedy party this Friday night in downtown McMinnville at The Moonlight Theater and you're invited! Featuring the talented comedians Lance Edward, Drew WIlson-McGrath, Katy Ipock, and Lucas Copp!
🎫- https://lanceedward.eventbrite.com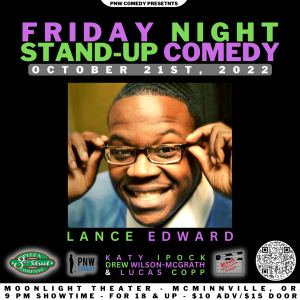 In a first for us in Mac, we'll have DJ Juice spinning tunes before and after the show to set the mood right. Hosted by Jared Richard and the Willamette Valley Comedy Club. As always, we're graciously sponsored by The Reel Hollywood Video.
The Moonlight Theater is a 100+ seat ADA-accessible black box-type theater space located inside 3rd Street Pizza Company in the heart of downtown McMinnville, Oregon. They have delicious New York-style pizza, salads, wings, and a selection of beer, wine, cider, and non-alcoholic beverages.
This show…
— is meant for adults and might feature some content not suitable for everyone
— will have indoor seating with A/C and Heating
— asks that you silence your cell phone
— is open to anyone aged 18 and up
— might have lineup changes without notice
— will not tolerate hecklers, interruptions, or those that talk during the show and do not follow the posted rules the night of the show
***If you do not follow the rules, you will be asked to leave immediately.***
***All sales are final. Any canceled shows will automatically be refunded. Tickets for rescheduled shows will automatically be good for the new night.***
🎫- https://lanceedward.eventbrite.com
-PNW Comedy