The hilarious Gabriel Rutledge is coming to McMinnville, Oregon this Saturday, Feb 5th!! He has a bunch of TVs credits, is fresh off working at The MGM, and is bringing the funny to the Willamette Valley Comedy Club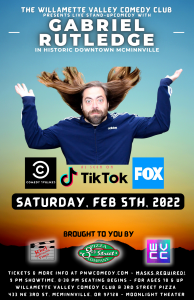 at 3rd
Street
Pizza Company's Moonlight Theater starting at 9 PM!
In addition to Rutledge, the winner of the 2021 Western Oregon Comedy Competition, Dianna Potter, will be opening up the show! Hosted by Andrew Brunello.
Tickets cost $12 online or $15 at the door. For ages 18 and up. 3rd Street Pizza Company's food and drink will be served before and during the show. It's sure to be a great night of fun and laughs and we hope to see you there!!