It's time to get up off the sofa and take that special someone for a night out on the town! Date Night: A Comedy Show For Couples (And Everyone Else, Too) comes to McMinnville, OR on Sept 17th at 9 PM!
Tickets at: https://datenightmacsept2022.eventbrite.com
What's Date Night? It's a comedy show for couples (and anyone) that features a variety of improv, stand-up comedy, and interactive games that give and you and your date the chance to win prizes! Featuring Tina Hogstrom and Dash Thompson.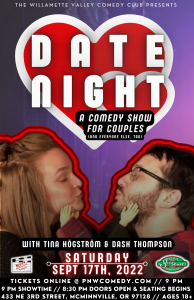 The box office opens inside 3rd Street Pizza in front of The Moonlight Theater at 8:30 PM with seating beginning at 8:45 PM. Tickets cost $25 for couples or $15 for a single ticket through Eventbrite, or $15 per person on the day of the show at the door. (So get those tickets ahead of time!) The show is located at 433 NE 3rd Street, McMinnville, OR 97128 inside of 3rd Street Pizza Company's Moonlight Theater. The Willamette Valley Comedy Club is an independent enterprise producing shows within the space. The show starts shortly after 9 PM.
This show…
– is meant for adults and might feature some content not suitable for everyone
– will have indoor seating with A/C and Heating
– asks that you silence your cell phone
– is open to anyone aged 18 and up
– might have lineup changes without notice
– will not tolerate hecklers, interruptions, or those that do not follow the posted rules the night of the show
Tickets at: https://datenightmacsept2022.eventbrite.com
-PNW Comedy