PNW Comedy is excited to bring Cory Michaelis to the Willamette Valley on Feb 3rd and 4th!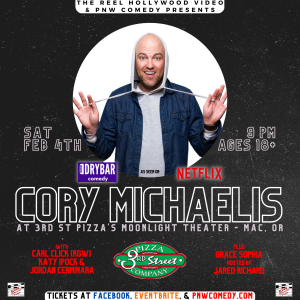 After teaching high school for 12 years, Cory Michaelis "retired" to do comedy full-time because he wanted to try out both of the lowest-paying jobs in America.
Cory has a Dry Bar Comedy Special -"Bad Teacher" – that snagged over 75 million views. His debut album, "The Collage Dropout," was released by 800 Lb. Gorilla Records and charted at #2 on iTunes & Billboard (because it was the only album released that week). Cory has been seen on the TV show "Laughs" for his stand-up comedy which aired on FOX. In addition to headlining comedy clubs all over the US and Canada, Cory has taken his act global, doing tours in Dubai, Abu Dhabi, and Pakistan.
Salem/Keizer on Feb 3rd – WVCC @ Keizer Homegrown Theatre in Keizer, OR
Tickets: https://corymichaelissalemkeizer.eventbrite.com
McMinnville, OR on Feb 4th – Moonlight Theater @ 3rd Street Pizza
Tickets: https://CoryInMac.eventbrite.com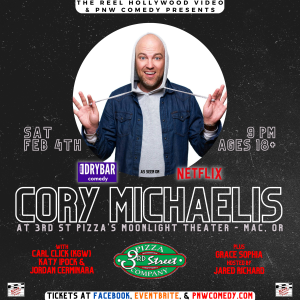 Both nights feature a duo of opening comics coming from central Oregon- Katy Ipock and Carl Click. Katy Ipock is a force of raunchy aunt comedy and she currently hosts and produces stand-up shows out of Craft Brewery in Bend. Carl Click, whom some might remember from his years at KGW in Portland, cleverly combines stand-up and musical comedy for a memorably funny performance.
Plus Special Guest Grace Sophia! Hosted by Jordan Cerminara on Friday night in Keizer and by Jared Richard on Saturday night in McMinnville.
These shows…
– are meant for adults and might feature some content not suitable for everyone
– will have indoor seating with A/C and Heating
– ask that you silence your cell phone
– are open to anyone aged 18 and up
– might have lineup changes without notice
– will not tolerate hecklers, interruptions, or those that do not follow the posted rules the night of the show
***If you do not follow the rules, you will be asked to leave immediately.***

***All sales are final. If the show is canceled, tickets will be refunded or exchanged for another show.***
-PNW Comedy