Look out, comedy fans! On Friday, December 21st, PNW Comedy will be making a stop at The Diversity Cafe & Club in Forest Grove, OR. And starting at 9 PM,  they'll venue will play host to a fantastic evening of stand-up comedy featuring the hilarious Carter Anderson (EPIX)!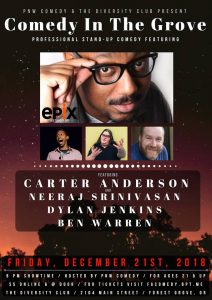 Carter Anderson's gut-busting comedy can be seen at comedy clubs up and down the west coast and he was just featured on the premium cable network EPIX's TV show Unprotected Sets! Also on the show are the always funny Neeraj Srinivasan, Dylan Jenkins, & Ben Warren! Plus special guest Chelsea Burns! Hosted By PNW Comedy.
Tickets for this show can be purchased at the following link: http://fgcomedy.bpt.me/. Online ticket holders will be seated first and any remaining tickets will be sold at the door the night of the event. Seating begins at 8 PM and the earlier you show up, the better.
For more info visit: https://www.facebook.com/events/286065552020598/
Location: Diversity Club (Cafe & Catering)
2104 Main St, Forest Grove, Oregon 97116
-PNW Comedy