Get ready for Oregon's favorite comedy contest! The Western Oregon Comedy Competition gets started this week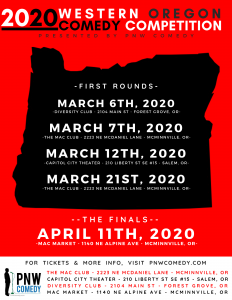 with TWO events! One on Friday, March 6th at 8 PM in Forest Grove at the amazing Diversity Club & Cafe. And the other, on Saturday, March 7th at 9 PM in McMinnville at The Mac Club!
This year's WOCC is bigger and better than ever before! With five shows at four venues in three different, two different rounds will decide the one ultimate winner! And the best part? You, the audience, get to decide which of the nearly 40 comics walk away with the $500 cash prize, glory, and future bookings!
Interested in seeing a show? Here are the times and ticket links to the four First Round events.
The Finals of the WOCC will happen in April at Mac Market's Big Stage in McMinnville. Those voted into the final round will have ten minutes to dazzle to the crowd!
-PNW Comedy