Live stand-up comedy comes back to The Moonlight Theater with a special night of comedy featuring Becky Braunstein (as seen on Netflix, TBS, Hulu & more) and Jordan Cerminara!
Tickets at: https://beckyinmac.eventbrite.com/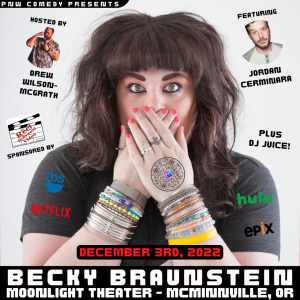 A uniquely enthusiastic comedian and actor, she appears in Trinkets on Netflix, Chad on HBOMax, Shrill on Hulu, and was recently featured in Teen Vogue, in an article which insisted that each one of her life experiences "deserves [its] own television show". Wanda Sykes & Page Hurwitz agreed, producing Becky's half-hour stand-up/documentary special as part of 'Unprotected Sets' on EPIX. Becky is a fast-rising, one-in-a-million performer with fresh energy and wide-eyed enthusiasm that is impossible to ignore. Her scripted comedy pilot Cancer Culture was named a winner by the Yes And Laughter Lab, sponsored by Comedy Central.
The Feature comedian for this show is Jordan Cerminara. The talented comedian is a Bay Area export that now calls the Portland metro area home. His jokes are fast, loud, relatable, and land right in your face with funny punchline after punchline. This show is hosted by PNW Comedy regular Drew Wilson-McGrath. Plus special guests.
The box office at the doors of the Moonlight Theater opens at 8:30 PM. A General Admission ticket costs $10 through Eventbrite or they are $15 for a ticket on the day of the show. A VIP – Reserved Seating ticket costs $20 (reserved seating is in the first two-to-four rows) through Eventbrite or is $25 the day of the show at the door. (So get those tickets ahead of time!) The show is located at 433 NE 3rd Street, McMinnville, OR 97128 inside of 3rd Street Pizza Company's Moonlight Theater. PNW Comedy and The Willamette Valley Comedy Club are independent enterprises producing shows within the space. The show starts shortly after 9 PM.
Tickets at: https://beckyinmac.eventbrite.com/
This show…
— is meant for adults and might feature some content not suitable for everyone
— will have indoor seating with A/C and Heating
— asks that you silence your cell phone
— is open to anyone aged 18 and up
— might have lineup changes without notice
— will not tolerate hecklers, interruptions, or those that do not follow the posted rules the night of the show
If you do not follow the rules, you will be asked to leave immediately.
-PNW Comedy