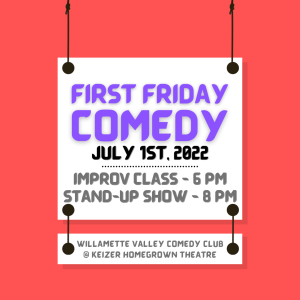 We're going to be busy this weekend! First Friday Comedy at the Willamette Valley Comedy Club @ Keizer Homegrown Theatre (KHT) is back for July with two terrific events for the Salem/Keizer area!
We start Friday, July 1st off at 6 PM with our all-ages Intro To Improv in Salem/Keizer, OR class with instructor Tina Högström and get it really kicked off at 8 PM with our monthly comedy showcase.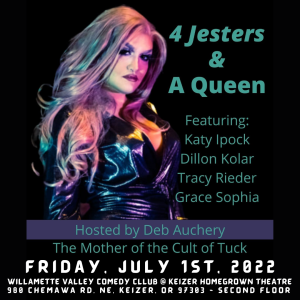 Coming all the way from Bend, 4 Jesters & A Queen is a comedy showcase featuring an array of up-and-coming comics hosted by the Queen of the show, Deb Auchery. (All of this month's free tickets have been grabbed, but Reserved Seating is still available!)
Tickets for Intro To Improv (6 PM) – https://introtoimprovsummer.eventbrite.com/
Tickets to 4 Jesters & A Queen (8 PM) – https://fristfridaycomedy.eventbrite.com/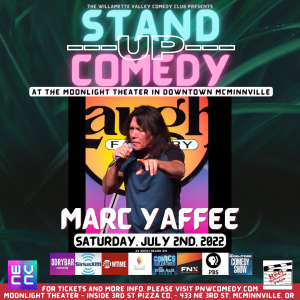 And then on Saturday, we have two different laugh opportunities for you! In downtown McMinnville at 3rd Street Pizza Company's Moonlight Theater, Marc Yaffee will be delighting the masses with some top-notch comedy that has been seen on TV's Showtime Network, Dry Bar Comedy, and PBS.
Tickets for Marc Yaffee in McMinnville (9 PM) – https://marcyaffeeinmac.eventbrite.com/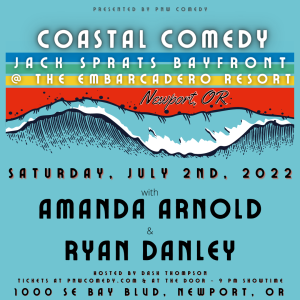 And for those looking for an excuse to visit the coast, PNW Comedy will be in Newport at Jack Sprats Bayfront with the hilarious duo of Amanda Arnold and Ryan Danley! Plus the very funny Dash Thompson. Headliner Amanda Arnold has had her stand-up comedy featured on the FOX TV show "Laughs" and Ryan Danley is an up-and-coming comedian and writer that has had his work featured on the comedy/satire site TheHardTimes.Net.
Tickets for Amanda Arnold & Ryan Danley in Newport (9 PM) – https://www.eventbrite.com/e/comedy-jack-sprats-bayfront-in-newport-w-amanda-arnold-more-tickets-360218492207/
-PNW Comedy