Live stand-up comedy comes back to The Moonlight Theater with a special one-night-only event featuring Kyle Kinane, Jordan Casner, and more!
Tickets at- https://kylekinanemac.eventbrite.com/
Kyle Kinane is an internationally touring comedian who has appeared on "Drunk History", "@Midnight," "The Tonight Show with Jimmy Fallon," "Conan," "Workaholics," "This Is Not Happening," "Not Safe with Nikki Glaser" and "Comedy Bang! Bang!" He is featured in Season 2 of Netflix's "The Standups" released in February 2018. He invented science. He has ESP. He is a recurring character on Netflix's "Love" created by Judd Apatow. He let someone else write most of this bio. He can swim backwards. He has released three Comedy Central specials: "Kyle Kinane: Loose in Chicago", "I Liked His Old Stuff Better" and "Whiskey Icarus".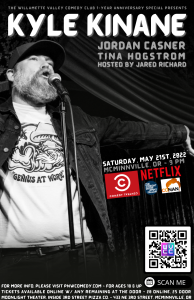 Jordan Casner is one of the funniest up-and-coming comics out of Oregon. He's opened for the likes of Brian Regan and Amy Miller, performed all over the west coast, and regularly works at Helium Comedy Club. He's also from McMinnville and a 2008 graduate of McMinnville High School. In addition to Jordan, we'll also have Tina Hogstrom open the show! Plus special guests. Hosted by Jared Richard of The Willamette Valley Comedy Club.
The box office opens at 8:30 PM. A ticket costs $20 through Eventbrite or is $25 for a ticket on the day of the show at the door. (So get those tickets ahead of time!) The show is located at 433 NE 3rd Street, McMinnville, OR 97128 inside of 3rd Street Pizza Company's Moonlight Theater. The Willamette Valley Comedy Club is an independent enterprise producing shows within the space. The show starts shortly after 9 PM.
Tickets at- https://kylekinanemac.eventbrite.com/
This show…
– is meant for adults and might feature some content not suitable for everyone
– will have indoor seating with A/C and Heating
– asks that you silence your cell phone
– is open to anyone aged 18 and up
– might have lineup changes without notice
– will not tolerate hecklers, interruptions, or those that do not follow the posted rules the night of the show
***If you do not follow the rules, you will be asked to leave immediately.***
***All sales are final. If the show is cancelled, tickets will be refunded or exchanged for another show.***
-Andrew Brunello of PNW Comedy