The McMenamins UFO Fest, the McMinnville Sci-Fi Film Festival, and the Alien Parade (3 PM) are all happening today in McMinnville! And because The Reel Hollywood Video is a gem of the community, they've added a few comedy shows to the 2022 McMinnville Sci-Fi Film Festival!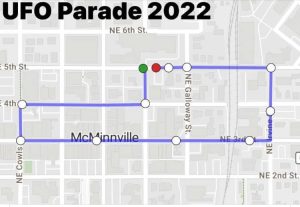 Comedy show (8:30 PM) tickets at: https://ufoshow.eventbrite.com/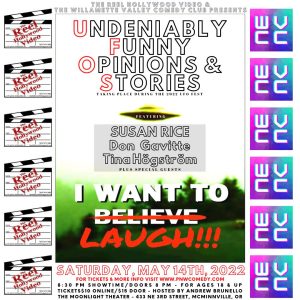 That means we have the Riff Show (MST3K-style show) happening right after the parade at about 4:30-5 pm AND THEN we have UFO'S: A Comedy Showcase in Downtown McMinnville, OR kicking off at 8:30 with Susan Rice, Don Gavitte, Liam Riddell, and Tina Högström!
Now, you might be asking yourself, "This is gonna cost me." But, you'd be half incorrect. The Riff Show at 4:30 at 3rd Street Pizza Company's Moonlight Theater is free! (It's mostly for people just walking around after the parade wanting to get some pizza and drinks.) The main show, however, does have a cover. But it's very cheap (just ten big ones!); so get your alien-loving, UFO-curious buttocks to Mac by 3 PM for the parade for an afternoon and evening you won't soon forget. For ages 18 and up.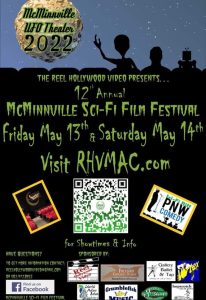 Schedule of events:
4:30 PM – Riff Show (about 75 to 90 minutes)
8 PM – Seating Begins For Stand-Up Show (Tips/Donations Accepted)
8:30 PM – Comedy Show w/ Susan Rice, Tina Hogstrom, Liam Riddell, and Don Gavitte ($10 cover)
!Willamette Valley Comedy Club/PNW Comedy at The Reel Hollywood Video's Sci-Fi Film Festival & The 2022 UFO Fest
–PNW Comedy