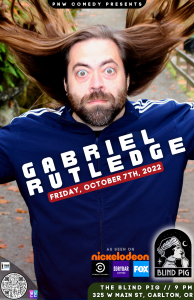 If you've come out to any of our comedy events around the state this year or last, you'll likely recognize Gabriel Rutledge as one of the funniest comics to grace our stages. And on October 7th and 8th, he'll be coming back to Oregon to do a run at two of PNW Comedy's snazziest venues.
The first show with Gabriel, on October 7th, will be at The Blind Pig in Carlton, OR. This new space has AMAZING food and drink and is sure to be a fast favorite for comedy patrons. Seating begins at 8 PM and we recommend getting there as close to 8 as possible in order to get food/drink orders in time for the show. In addition to Rutledge, this show will feature Jordan Cerminara and Jared Richard. Tickets cost $15 or $20 at the door. Seating is very limited, so get those tickets fast!
October 7th – https://gabincarlton.eventbrite.com/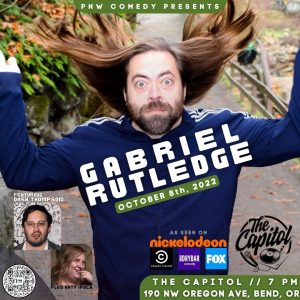 On October 8th, PNW Comedy will be back at The Capitol in downtown Bend. With showtime being at 7 PM, doors open and seating begins at 6 PM at this hip basement venue in the heart of Bend's thriving downtown. Featuring on this show is PNW Comedy favorite Dash Thompson (Date Night: A Comedy Show For Couples)! Plus Bend-local Katy Ipock! MC'd by PNW Comedy. Recommended for ages 21 and up, though those 18 and up are permitted. Tickets cost $15 online or $25 at the door.
October 8th- https://gabinbend.eventbrite.com
Whether you're in Central Oregon or in the Willamette Valley, we hope that you come out and enjoy a night of fun and laughs with us. If you have any questions, feel free to email us at info@pnwcomedy.com or reach us via telephone at 971-208-3944.
-PNW Comedy