PNW Comedy and the Willamette Valley Comedy Club are in a new location and doing shows on a new night for y'all's delight. So, get ready to laugh! Because on Sunday, April 24th, Tyler Boeh comes to Dallas, OR to perform at Court Street Neighborhood Bar & Grill! Tyler's been featured on TV ("Laughs" on FOX,) radio (his comedy album debuted at #2 on the Billboard Comedy Charts), has been written about in Forbes (https://bit.ly/2GPZCD1), has toured the country performing his comedy, and for one night only, Tyler will be visiting Court Street to perform for YOU!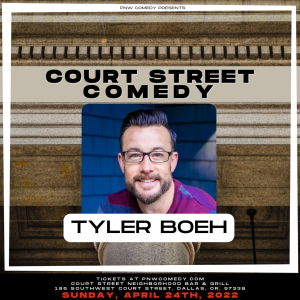 Tickets at: https://tylerindallas.eventbrite.com/
Also on this show are the comedic tripod of Dash Thompson, Tina Hogstrom, and Jared Richard! Each and every one of these three openers is a not-to-be-missed act on their own. And on this particular Sunday, you'll get to experience all three AND Tyler Boeh on the same stage!
Tickets cost $10 through Eventbrite or are $15 each on the day of the show at the door. (So get those tickets ahead of time!) PNW Comedy & Willamette Valley Comedy Club is/are an independent enterprise producing shows within the space. The show starts at 7 pm, with seating beginning at 6 PM. (Show up early to get some tasty food and drink!)
***We must keep talking to a minimum during the show.***
This show…
— is meant for adults and might feature some content not suitable for everyone
— will have indoor seating with A/C and Heating
— asks that you silence your cell phone
— is open to anyone aged 21 and up
— might have lineup changes without notice
— will not tolerate hecklers, interruptions, or those that talk during the show and do not follow the posted rules the night of the show
***If you do not follow the rules, you will be asked to leave immediately.***
***All sales are final. All tickets will be refunded if a show is canceled.***
Tickets at: https://tylerindallas.eventbrite.com/
For more info, please visit: https://www.facebook.com/events/1096657770878918/