This is happening tomorrow and you should come!! (It's over halfway sold out and it looks like it will be a full house!!) The fearless foursome of Dash Thompson, Jaren George, Ryan Danley, and Tina Högström are riding on into Seadogs at The Eventuary in Lincoln City, Oregon and it's going to be one heckuva comedy show! Each and every one of these comedians is a delight in their own right and they're all quickly becoming feature-and-headliner-worthy acts that are rightfully being booked everywhere.
I'll be posted up doing double duty by hosting and running the door (hint, hint, lol), so come on out and enjoy a night of great food (seriously, the food is amazing) in a beautiful location at the coast.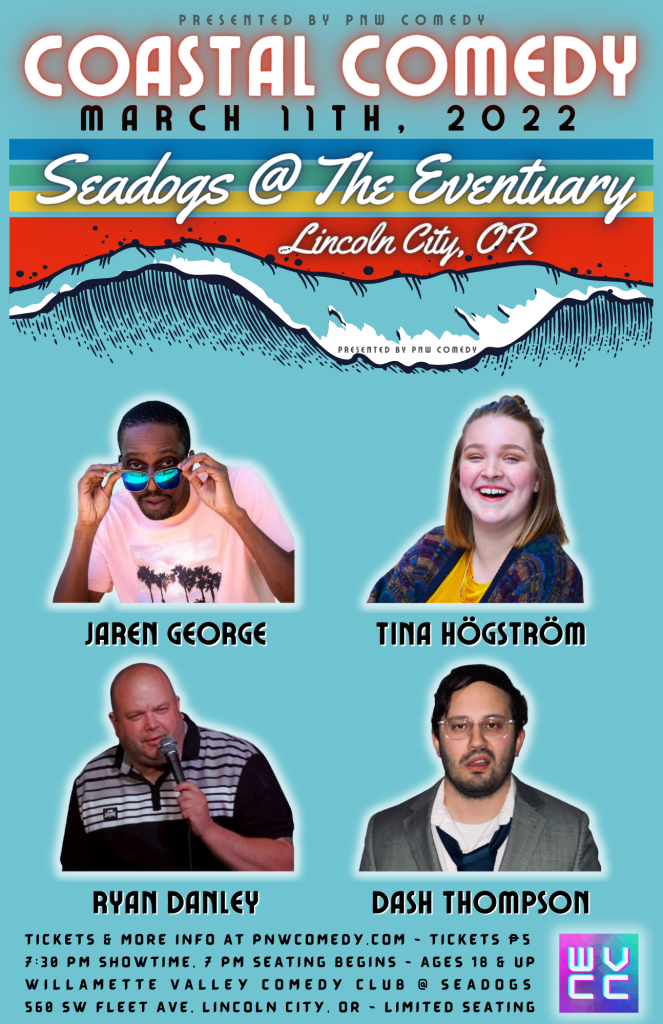 For tickets- https://coastalmar11.eventbrite.com
There are two types of tickets:
General Admission – Reserved Seating ($5) -This gives the ticket holder(s) a seat to the show that is in a prime location and set aside for them right up to showtime. (Perfect for groups or individuals arriving right before the show!) (TICKETS STILL AVAILABLE!)
General Admission (Free) – These LIMITED General Admission tickets are free through Eventbrite with advanced registration. And once they're gone, they're gone! (We're out of these tickets as of the day of the show.) They give the ticket holder a seat to the show that is Movie Theater-style, 'First Come, First Seated' in the stage area. Tipping the comics is greatly encouraged. Any tickets not sold ahead of the show may also be purchased at the door the night of the event for the price of $5. (So get those FREE and Reserved Seating tickets now!) (FREE TICKETS SOLD OUT)
The show is located at 560 SW Fleet Ave, Lincoln City, OR 97367. PNW Comedy & The Willamette Valley Comedy Club are an independent enterprise producing shows within Seadogs at The Eventuary. Seating for this show starts at 7 PM, with showtime beginning at 7:30 PM.
This show…
— is meant for adults and might feature some content not suitable for everyone
— will run from 7 to 9 pm, with seating beginning at 7 and showtime at 7:30 PM
— will have indoor seating with A/C and heating
— asks that you silence your cell phone during the performance
— is recommended for those aged 18 and up
— might have lineup changes without notice
— will not tolerate hecklers, interruptions, or those that do not follow the posted rules the night of the show
***If you do not follow the rules, you will be asked to leave immediately.****
***All sales are final.***
For more information, please visit https://www.facebook.com/events/5099912360071374
-PNW Comedy