The Willamette Valley Comedy Club is proud to present: Belinda Carroll & Friends live on Saturday, June 26 at 8 pm!
Post-pandemic, Belinda Carroll is a walking existential crisis. Is she an introvert, or has she just been stuck in her apartment alone for 15 months? Founder of Portland Queer Comedy Festival, Belinda has been writing, singing, improv-ing, and standing up for over 10 years. An All-Jane Comedy Festival veteran, she has performed and produced hundreds of shows, at festivals, and colleges and has two long-running stand-up comedy showcases, SMUT and Outlandish. She has opened for everyone from Kids in the Hall's Scott Thompson to Nico Santos, to Erasure. She has written for PQ Monthly, 
Cracked.com
, Huffington Post, and Portland Mercury.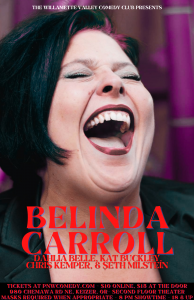 And guess what?! The best part is Belinda is bringing some friends to keep the laughs rolling all night! That means on Saturday, Dahlia Belle, Kat Buckley, Chris Kemper, and Seth Milstein will also be telling jokes to the adoring audience at one of Salem/Keizer's best places to see a comedy show.
Tickets cost $10 through Eventbrite or $15 the day of the show at the door. Showtime is at 8 PM with the doors opening and seating beginning at 7:30 PM. These indoor shows feature some content not suitable for everyone, so these events are for those aged 18 and up. A Concession Booth will have water, candy, and popcorn available for purchase before and during the show.
The theater is located at 980 Chemawa Rd NE, Keizer, OR 97303, and is on the second floor. The Willamette Valley Comedy Club is an independent enterprise producing shows within the space shared with Keizer Homegrown Theatre. Seating begins thirty (30) minutes before the scheduled start time. Masks are still required at the theater at all times. No outside food or drink allowed in the theater. No heckling the comics or disturbing the performance. Breaking any of these rules is grounds for immediate removal from the show.
Location: Willamette Valley Comedy Club @ Keizer Homegrown Theatre, 980 Chemawa Rd NE, Keizer, Oregon
Time: 8 PM Showtime, 7:30 PM Doors/Seating
-PNW Comedy