The COVID-19 pandemic has caused the closure of most traditional venues for stand-up comedy across the country, including bars, clubs, theaters, and all of PNW Comedy's event locations. But with millions of vaccinations being distributed in every state, it's time to bring the laughs back folks ready to get safely back out in public and laugh responsibly.
How do we do this? By putting on socially distant and covid compliant shows at our venues that are open and welcoming customers back in; PNW Comedy respects and follows all local public health mandates, asks that all customers respect the space of other patrons at the show, begs you to not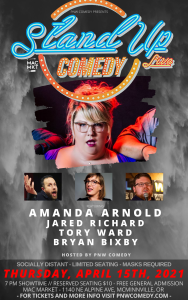 come to shows when you're not feeling well, and asks that attendees wear their masks when appropriate when at an event.
This is an exciting time for PNW Comedy! We've brought back our Mac Market show in McMinnville and we will be expanding on our previous Sci-Fi Riff Shows that we've put on during past McMinnville Sci-Fi Film Festival with our good friends over at The Reel Hollywood Video. For more info on these projects, and the 2021 Western Oregon Comedy Competition, check out PNWcomedy.com in the coming weeks. Also, for comics wanting to submit their materials for the 5th year of the WOCC, info will be available May 1st.
-PNW Comedy