If you like comedy, you won't want to miss this Saturday's upcoming show at Mac Market in McMinnville's Granary District. This standup show, which is for people aged 18 and up, features Lance Edward, who was voted one of Willamette Week's 2019 Funniest Five in Portland!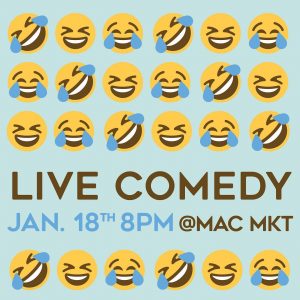 https://www.wweek.com/arts/comedy/2019/11/27/lance-edward-knows-when-life-hands-him-a-plus-standup-material/
Also featuring on the show is Chris Johnson, who was also just voted one of WW's 2019 Funniest Five.
https://www.wweek.com/arts/comedy/2019/11/27/chris-johnson-wants-to-become-portland-comedys-next-hometown-hero/
Opening up the show is Salem's Darin Thompson! Hosted by Andrew Brunello. Seating begins at 7 PM, with showtime at 8 PM. General Admission tickets cost $10 online (Click me! for tickets), or $12 at the door. There is also a limited amount of Table Seating available for $25 each.
For more information, visit https://www.facebook.com/events/2473704959512455/.
-PNW Comedy