Laughs will be rolling in McMinnville, Oregon tomorrow night! Starting at 5 PM and going strong until almost midnight, PNW Comedy will have a full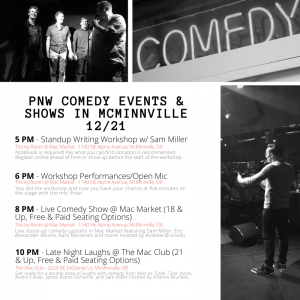 evening of laugh-options in store of all to enjoy!
5 PM – Standup Writing Workshop w/ Sam Miller ($10 donation rec.) – This is a perfect opportunity to introduce yourself to stand-up comedy and the writing the goes along with it. You'll learn from one of the PNW's fastest rising comedy star, Sam Miller. And at the end of the hour-long seminar, you'll have a chance to perform a few minutes on stage!
6 PM – Workshop Performances/Open Mic (FREE!)
8 PM – Live Comedy Show @ Mac Market Ivy Room (18 & Up, Free & Paid Seating Options) featuring Sam Miller, Ken Hamlett, Kara Morehart and more! Hosted by Andrew Brunello (me!)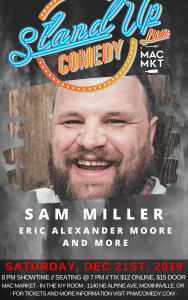 10 PM – Late Night Laughs @ The Mac Club McMinnville (21 & Up, Free & Paid Seating Options) featuring Marcus Tyrrell, Tyler Jones, Austin Casler, James Blame Duhamie, and Sam Miller (again!)!
Locations: Mac Market (1140 NE Alpine Avenue), and Mac Club (2223 NE McDaniel Lane)
-PNW Comedy