Aaron Woodall (Dry Bar, FOX, Hulu) and Neeraj Srinivasan come to McMinnville's Moonlight Theater on April 22nd, 2023!
Tickets at – https://AaronWoodall.eventbrite.com/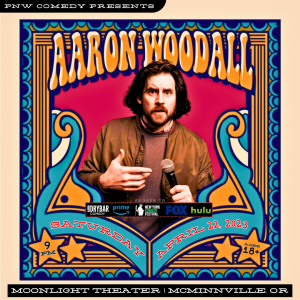 From the popular podcast The Mormon and The Meth-Head, Aaron Woodall is as charming and delightful on stage as he is honest and vulnerable. Once a nice young man adored by mothers everywhere, Aaron sadly grew into a hedonistic heathen who finds joy in sick, depraved delights such as marijuana, and R-rated movies (both good, it turns out). But even after growing up to learn that God is dead, love isn't real, and beer doesn't even taste very good, he never gave in to cynicism. His ability to effervescently share all of life's sad disillusions with a sense of wide-eyed excitement once got him named one of Conan O'Brien's Comics To Watch at the New York City Comedy Festival in 2018. His jokes have been seen on FOX, Hulu, Fusion, Epix, and the Boise, Idaho Army Navy Surplus Store's website (this is true, apparently). He also has two specials on streaming now on Dry Bar Comedy and his aptly-named 2020 album WOODALLALONE is available for purchase.
Plus Neeraj Srinivasan. Hosted by Jordan Cerminara.
The box office opens at 8:30 PM. A General Admission ticket costs $15 for Early Bird tickets through Eventbrite or is $20 for a ticket on the day of the show at the door (or after Early Bird tickets are gone). A VIP – Reserved Seating ticket costs $20 (reserved seating is located in rows that have extra dedicated room for food and drink) through Eventbrite or is $25 the day of the show at the door. (So get those tickets ahead of time!) The show is located at 433 NE 3rd Street, McMinnville, OR 97128 inside of 3rd Street Pizza Company's Moonlight Theater. PNW Comedy is an independent enterprise producing shows within the space. The show starts shortly after 9 PM.
Tickets at – https://AaronWoodall.eventbrite.com/
This show…
– is meant for adults and might feature some content not suitable for everyone
– will have indoor seating with A/C and Heating
– asks that you silence your cell phone
– is open to anyone aged 18 and up
– might have lineup changes without notice
– will not tolerate hecklers, interruptions, or those that do not follow the posted rules the night of the show
***If you do not follow the rules, you will be asked to leave immediately.***
***All sales are final. If the show is canceled, tickets will be refunded or exchanged for another show.***
-PNW Comedy