Laugh w/ Sean Jordan (CBS, Comedy Central) When He Comes To Silas Wines Tasting Room In Amity, OR On Oct 20th!
Tickets at: https://WCWSeanJordan.eventbrite.com/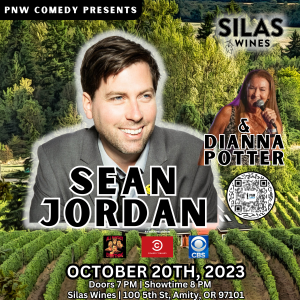 Sean Jordan is a stand-up comedian and podcaster who co-hosts the wildly popular podcast All Fantasy Everything and hosts the always-good-news podcast What's Dank That I'm Stoked On. Sean was named Portland's Funniest Person by Willamette Week Magazine, has written for Comedy Central, and he was named one of the "Comics to Watch" by Splitsider Magazine. In 2019, Sean charted at #2 on iTunes with the release of his debut stand up album The Buck Starts Here on A Special Thing Records. He is a regular guest and fan favorite on Doug Bensons' podcast Doug Loves Movies, and you may also have heard him on Professor Blastoff, The Crabfeast, Put Your Hands Together and Alison Rosen is Your Best Friend. Sean has performed in comedy festivals around the country, including the High Plains Comedy Festival, Bridgetown Comedy Festival and Sketch Fest in San Francisco. His stand up comedy has been described as "You get the sense this is sincerity, not shtick. And so it's not surprising Jordan is so popular with his peers in the scene—other comics, club staff and promoters. His buoyancy can be hard to crack." Besides sharing that positive attitude buoyancy, Sean has recently been practicing how to swaddle his new daughter. Ask him for swaddle tips anytime.
Featuring the talented Dianna Potter! Hosted by PNW Comedy. Great drinks and small bites are provided by the Silas Wines Tasting Room, The Bramble.
Doors open and seating begins at 7:00 PM. Showtime starts promptly at 8 PM. General Admission tickets cost $20 through Eventbrite or they are $25 on the day of the show at the door. (So get those tickets ahead of time!) There are also a VERY LIMITED amount of VIP – Reserved Seating Tables for two people for $60 through Eventbrite. The show is located at The Bramble, 100 5th St, Amity, OR 97101. PNW Comedy is an independent enterprise producing shows within the space.
Tickets at: https://WCWSeanJordan.eventbrite.com/
This show…
– is meant for adults and might feature some content not suitable for everyone
– will have indoor seating with A/C and Heating
– asks that you silence your cell phone
– is open to anyone aged 21 and up
– might have lineup changes without notice
– will not tolerate hecklers, interruptions, or those that do not follow the posted rules the night of the show
***If you do not follow the rules, you will be asked to leave immediately.***
***All sales are final. If the show is canceled, tickets will be refunded.***
-PNW Comedy