Tyler Boeh, who has had his comedy album downloaded millions of times and has been featured in the Wall Street Journal, is making a ONE NIGHT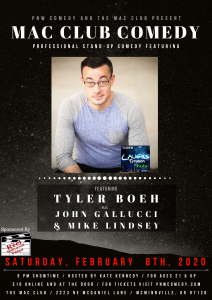 ONLY stop in McMinnville on Saturday, Feb 8th!
Performing alongside Tyler tonight is Mac Club-favorite Mike Lindsey. Plus we have John Gallucci making his Mac Club debut, tonight! Hosted by McMinnville's own Kate Kennedy.
Tickets cost only $10 and are available online at this link or at the door. For ages 21 and up. Seating begins at 8, showtime at 9 PM.
For more info, please visit the following link: https://www.facebook.com/events/2958257657526510/
-PNW Comedy