The Western Oregon Comedy Competition is bigger and better than ever this year! With over 100 comics from 13 states submitting to be a part of the comp, this year's WOCC is the most talent-filled comedy competition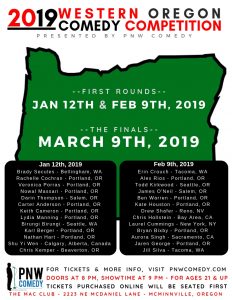 McMinnville has ever seen!
The premise is simple- each comic gets five minutes on stage and at the end of the show YOU! (the audience) get to vote for who you thought had the evening's best set! The top three vote-receiving comics move on to The Finals for their shot at a $300 cash prize, future bookings, and the title of the 2019 WOCC Champion!
The comics competing in the 2019 Western Oregon Comedy Competition are:
-January 12th, 2019-
Brady Secules – Bellingham, WA
Rachelle Cochran – Portland, OR
Veronica Porras – Portland, OR
Nowal Massari – Portland, OR
Darin Thompson – Salem, OR
Carter Anderson – Portland, OR
Keith Cameron – Portland, OR
Lydia Manning – Portland, OR
Birungi Birungi – Seattle, WA
Karl Berger – Portland, OR
Nathan Hart – Portland, OR
Shu Yi Wen – Calgary, Alberta, Canada
Chris Kemper – Beaverton, OR
-February 9th, 2019-
Erin Crouch – Tacoma, WA
Alex Rios – Portland, OR
Todd Kirkwood – Seattle, OR
James O'Neil – Salem, OR
Ben Warren – Portland, OR
Kate Houston – Portland, OR
Drew Shafer – Reno, NV
Chris Hollstein – Bay Area, CA
Laurel Bacon Cummings – New York, NY
Bryan Bixby – Portland, OR
Aurora Singh – Sacramento, CA
Jaren George – Portland, OR
Jill Silva – Tacoma, WA
Hosted By PNW Comedy. Plus special guests. Tickets available online at http://wocc.bpt.me/. Those holding online tickets will be seated first with any remaining tickets to be sold at the door the night of the show. For more information, visit https://www.facebook.com/events/252448755612979/.
9 PM Showtimes // Doors @ 8 PM // For Ages 21+
-PNW Comedy