We're excited to announce that the Western Oregon Comedy Competition is back for 2018! Over two months, the competition brings a bunch of hilarious comedians from all over the northwest to McMinnville, OR to compete for the audience determined WOCC crown!
The competition is a collection of three shows (two First Round heats and The Finals) that feature a selected group of comics performing their funniest material. After both First Round heats, the audience votes for who they thought had the best comedic moves on stage that night and the lucky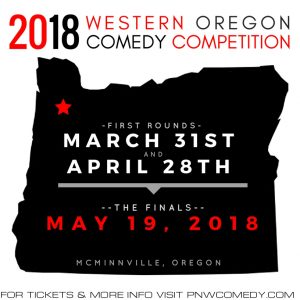 few that receive the most votes move on to The Finals!
The comics that moved on from both Round One heats then perform a longer set at The Finals. At the conclusion of the show, the audience votes for who they thought was the funniest that night and the comic receiving the most votes wins! In addition to the title of 2018 Western Oregon Comedy Competition Champion, the winner receives a $200 cash prize and a pretty nifty trophy!
The three nights of the comedy are March 31st (First Round), April 28th (First Round), and May 19th (The Finals). If you're interested in competing, send your info to WesternOCC@gmail.com by 12:01 AM on February 28th, 2018.
For more information, both of the following links have more specifics-
Facebook Event: https://www.facebook.com/events/183043602299080/
Tickets: https://wocc.bpt.me/
-PNW Comedy