COVID has basically caused the closure of most traditional venues for stand-up comedy. Instead of packing it in and calling it quits, PNW Comedy has been adapting and is ready to deliver new ways to get laughs to the masses!
How do we do this? PNW Comedy will be partnering with online comedy networks, like the Big Laugh Comedy Network based out of Texas, and content creators across the country to give audiences fresh shows that'll be streaming to the phones and homes of content-hungry users around the globe.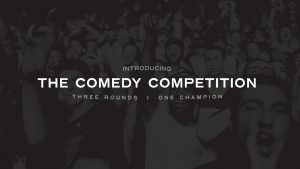 One of these fresh shows is an adaptation of PNW Comedy's most recognizable creation: The Oregon/Western Oregon Comedy Competition. Instead of canvassing for comics in the greater Pacific Northwest that are eager to go head-to-head-to-head with other up-and-coming comics, we'll be seeking comics of all levels from all over the world to fill a limited amount of spots in this new prestige online comedy battle, THE COMEDY COMPETITION.
This is an exciting time for PNW Comedy! More info on The Comedy Comp and other new projects will be released in the next few weeks. Info for comics wanting to submit for this 100% online comp will be available in the coming days.
-PNW Comedy