First Fridays Open Mics are here all summer long in the Salem/Keizer area, so take a peek at the very first one on June 4th at the Willamette Valley Comedy Club @ Keizer Homegrown Theatre. If you'd like on the mic and have about five minutes of stand-up comedy that you've written, email info@pnwcomedy.com stating that you're interested in performing by 9 am on 6/4, 7/2, and 8/6.  The sooner you email, the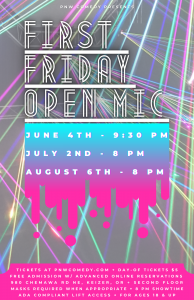 more likely you are to grab a spot (we're already filling up for this first month!). Set times are dependant on the total number of people that sign up and show up.
A small number of walk-up spots will be available for every open mic this summer. These day-of spots are available for sign-ups starting 30 minutes before the show. (There are no limits on the material that can be performed, so feel free to come out and do an original comedic song, recite some poetry, or perform a skit. The only rules are that there is absolutely no hate speech or racist material allowed. No exceptions.)
Attending the First Friday Open Mic is free with advance online reservation, though, if you have a good time or want to support us putting on more open mics like this, we do have a Pay What You'd Like/tip jar available. And for those that are more into spur-of-the-moment activities, day-of walk-up General Admission tickets cost just $5 at the door. There is no cost for comedians/performers to attend, though they are encouraged to send a message to info@pnwcomedy.com to let the producer(s) and host know to save a spot in the theater for them. And until we are told otherwise, masks are required to be worn in the theater at all times when appropriate.
First Friday Open Mic Dates:
-June 4th at 9:30 PM
-July 2nd at 8 PM
-August 6th at 8 PM
-More Dates Will Be Added On An Ongoing Basis, Times Subject To Change
Location: Willamette Valley Comedy Club @ KHT
Address: 980 Chemawa Rd NE, Keizer, Oregon 97303
-PNW Comedy